What is Petroleum Jelly?
Petroleum jelly is a petroleum derivative with many beneficial qualities and uses, such as promoting skin and lips' hydration.
It is currently used in cosmetics and pharmacies.
According to Alfons del Pozo Carrascosa, from the Department of Pharmacy and Pharmaceutical Technology at the University of Barcelona, it is a mixture of saturated hydrocarbons.
These are derived from petroleum and usually are emollient, occlusive, very greasy, and semi-solid.
Properties of Petroleum Jelly
Vaseline is widely used because it is an easy-to-find material with many properties and benefits.
The main ones, according to Raquel Fernández de Castro, from the Zahrawi Medical Institute of Valencia, are:
Emollients: soothe dry skin, softening and protecting it.
Protective.
Occlusive: the primary function is to prevent the evaporation of water.
Impermeability.
Adhesiveness: remains on the skin after application.
Pharmaceutical industries widely use Vaseline in the medicine.
It does not dissolve with water, thanks to its composition rich in saturated carbon chains.
We find it in many areas, such as at home or in hospitals.
It is necessary to compose products such as ointments, ointments creams sold in pharmacies, and medicinal products.
We can buy it in two ways, to be chosen according to the preferences of the user, the needs and the injury to be treated by applying it:
Liquid Vaseline and Solid Vaseline.
The composition and properties are the same; the only thing that changes is how it is applied in the area of interest.
Applications of Petroleum Jelly
Petroleum jelly has many beneficial properties and a broad spectrum of uses.
According to María Castellanos González, a doctor at the Madrid clinic, one of the essential benefits is
maintaining the skin's lipid barrier and re-establishing the damaged defense barrier.
Besides, the maximum frequent uses are:
Facilitates Wound Healing
Hydration of the skin and lips: It is recommended to use it when it is dry and to heal chapped lips.
Calms Skin Reactions: Itching or Reddened areas.
Softens hyperkeratosis or thickening of the outer layer of the skin.
The base of Cosmetics and pharmaceutical products
Petroleum jelly is mostly popular for being the base of many cosmetics and other perfumery and pharmaceutical products.
Now, you can use liquid petroleum jelly for the care or restoration of various objects.
Here are some uses and benefits of Vaseline.
For Skin care
To combat dry skin, in general:
You take a little Vaseline, melt it in a container, and then when it warms up, apply it directly to the skin as if it were a cream.
Since it is a very oily substance, its presence on the skin throughout the day can be uncomfortable, so use it at night.
To soothe irritation after waxing:
In the popular sphere, the product can be applied to the skin to hydrate, and reduce both burning and friction.
To improve the darkness:
Petroleum jelly improves the appearance of knees and elbows that have darkened due to excess dryness. Vaseline is usually applied in these areas after bathing with a gentle massage—no need to cover.
To hide and eliminate dry feet cracks:
Typically, Apply a layer of petroleum jelly to the feet, leave in the air for a few minutes, and then cover with socks overnight.
For Skin Beauty
To promote eyelash growth:
Apply a layer of Vaseline to the eyelashes every night before sleeping.
To remove makeup:
Instead of using oils or other products or vigorously rubbing the face, you can easily use a little Vaseline to remove all the makeup.
To keep the eyebrows well-combed:
With a minimal amount of Vaseline, you can fix the eyebrows' hairs so that they stay in place.
To remove the cuticle:
It is suitable for use in manicures and pedicures to help remove the skins that grow around the nails more easily.
Other uses of Petroleum Jelly
For massage:
In place of using creams, lotions, or oils, you may use a little Vaseline to give massages, both relaxing and therapeutic.
To avoid dye marks:
For example, before coloring your hair, apply a little petroleum jelly along the entire hair root line from face to neck.
To keep tattoos in good condition:
Its application helps preserve the colors and the shine of the ink by keeping the area hydrated.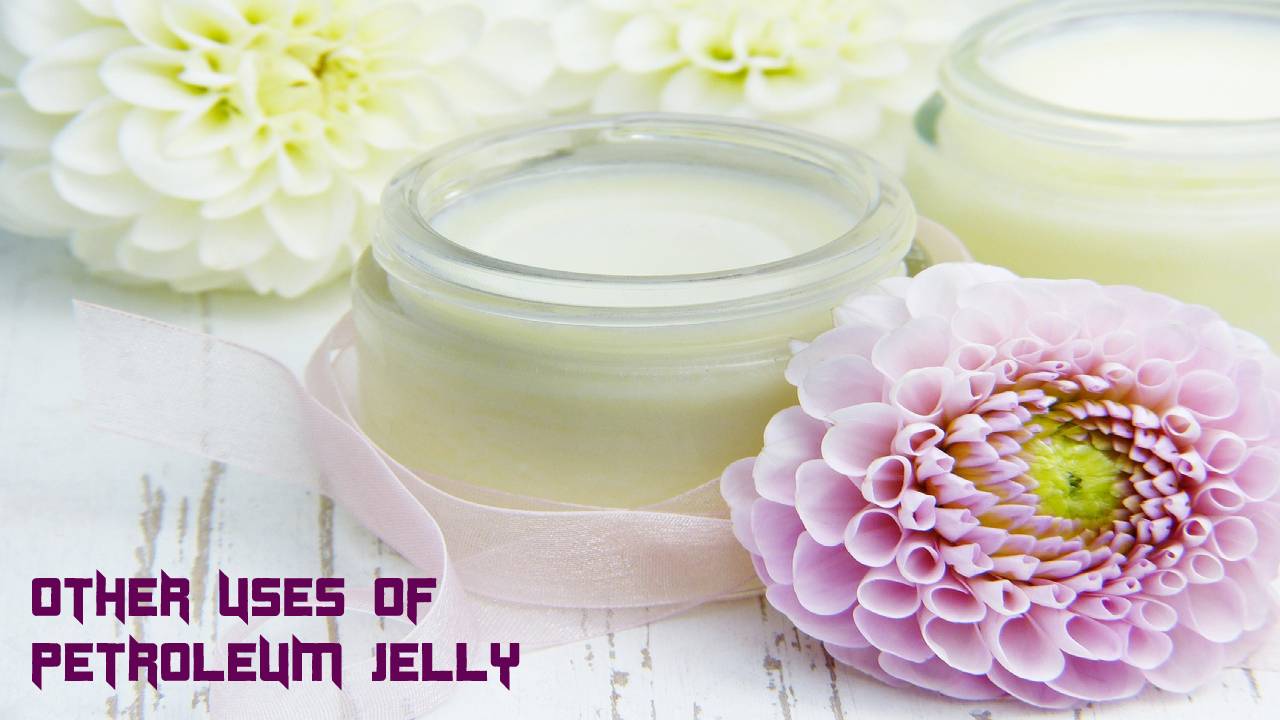 Petroleum Jelly uses at home
Firstly, you may use it to polish furniture and hide scratches and cracks.
Secondly, to polish leather furniture and accessories (animal and synthetic). It gives shine to shoes, belts, jackets, and bags and also enhances the color.
You may use it as an insect repellent by mixing a little Vaseline with specific ingredients to make a potent homemade repellent.
Lastly, to avoid rust.
Does Vaseline have any side effects?
Long-term use has a drying effect. Another risk: Vaseline and milking fat can dry out the skin with long-term use.
The reason is a habituation effect. The skin gradually gets used to the added fat layer and reduces the production of its skin oils.
How good is Vaseline for the skin?
Vaseline is not comedogenic, so it doesn't clog the pores but instead moisturizes and protects the skin.
However, People use the ointment on the whole face or dry areas.
Can I use expired Vaseline?
Vaseline usually has a long shelf life because it is not oxidized and hardly undergoes chemical reactions.
The pharmacopeia differentiates between white and yellow petroleum jelly. The white Vaseline is almost or entirely discolored.
What is the difference between petroleum jelly and milking fat?
The original milking fat is made on a paraffin basis. Paraffin is a by-product of a petroleum refinery, such as petroleum jelly.
However, Petroleum jelly is an excellent moisture and skin protection, but it also carries risks. Further additives should prevent infections.
Also Read: Waterproof Eyeliner – Drawbacks, Best felt, Best Waterproof Eyeliners