Coconut oil for hair growth
Coconut oil for hair growth has gained enormous popularity in recent years as a beauty remedy.
Thanks to its natural properties, which help, to deeply nourish and improve the appearance of the hair.
When appropriately used, it helps protect hair and solve various common problems, from hair growth to frizz.
Benefits of Coconut oil for hair growth
Here are some of the benefits of coconut oil for hair.
1. Coconut oil deeply nourishes the hair
Coconut oil has a therapeutic and revitalizing effect that protects and nourishes the hair.
It is particularly recommended for those with dry hair. Apply coconut oil to your hair right after taking a shower.
For a more in-depth treatment, apply a few drops on the hair strands and let them rest for the whole night.
2. Coconut oil helps stop hair loss
A little coconut oil applied to your hair every night is enough to stop hair loss.
This excellent natural product helps to moisturize and improve the appearance of the hair.
3. Coconut oil accelerates hair growth
Another significant benefit of it is its ability to accelerate hair growth. In this case, it must be
combined with a vitamin E capsule.
Lightly heat the coconut oil, then mix it with the contents of a vitamin E capsule and apply it all over your hair, up to the scalp.
Leave it on overnight, covering your head with a cap. Repeat the treatment twice a week.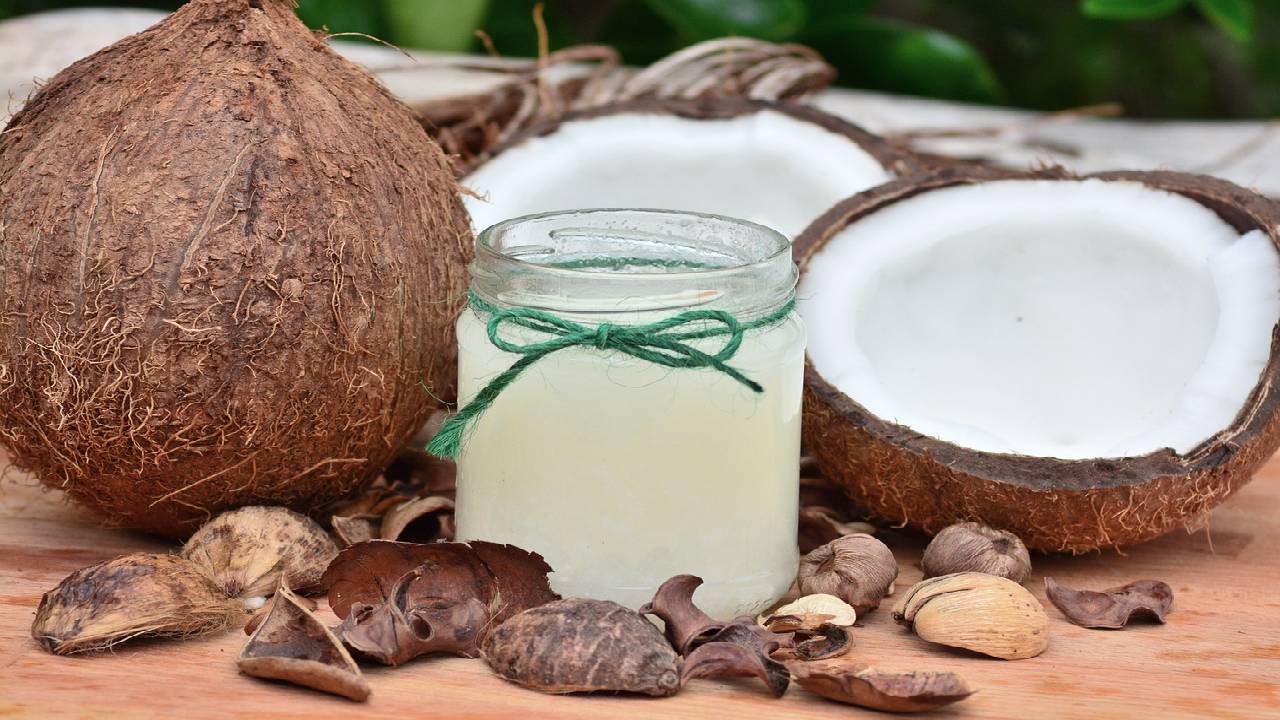 4. Coconut oil helps eliminate the "frizz" effect
You can use coconut oil as an alternative to hair conditioners.
After shampooing your hair, apply some coconut oil, let it sit for a few minutes.
Then rinse well with warm water, making sure you have removed all residue.
Why is coconut oil effective for hair growth?
It protects and moisturizes the scalp, promoting the growth of thick and healthy hair.
The fatty acids it is rich in a bind to the protein structure of the hair fibre and protects both the roots and the strands from breaking.
The lauric acid contained guarantees excellent results, penetrates the hair fibre, protects against dust, environmental pollution, and the intense drying heat of the plate and hairdryer.
Moisture is essential to keep hair soft, shiny, and strong. Regular and constant coconut oil guarantees excellent results, even better than mineral oils, petrochemical-derived oils, liquid crystals, and silicones.
Furthermore, the scalp and hair can become breeding grounds for unwanted bacteria, potentially limiting hair growth.
Coconut is an effective remedy to tackle the problem thanks to the traditionally known antibacterial and antifungal properties effective in protecting against dandruff and lice.
How to use coconut oil for hair growth?
It is essential to choose a coconut oil free of additives, preservatives, and chemical impurities that could further compromise hair growth.
The best solution is to use guaranteed sourced coconut oil like the one you can buy from Verdelime and receive comfortably at home.
Remember that coconut oil is temperature-sensitive. During the summer, it is liquid. During the winter months, it can become mushy.
In this case, it will be enough to leave it for a few minutes near a heat source to obtain the oil.
Also Read: Double Chin – How to get rid of Double Chin with effective remedies?