Silk Scarf
A silk scarf completes everything and makes you look fabulous, whether for a gala or a walk in the park.
Favorite way to wear the scarf may be a Scarf hanging from a bag's handle or around the neck.
"You hardly notice that it's worn, but it completes the look," they explain.
From scarves and bandeaux to turbans and hair bands, a silk scarf's fashion potential is limitless, not to mention
that silk scarves and natural hair hats are also an essential part of hair care.
Fabrics for your scarves
The better the material, the more harmonious the effect will be. As with all principles, there are exceptions.
A simple viscose fabric, tailored precisely to your favorite dress, can develop a strong charisma.
Almost all materials are suitable for those you feel comfortable and fit, such as chiffon, viscose, cotton,
cambric, wool, linen, or silk, not forgetting synthetic fibers.
1. Gauze(chiffon)
Wafer-thin fabric made of synthetic or silk fibers. Chiffon feels gritty and soft.
2. Viscose
Cellulose-based chemical fiber as material. It is characterized by comfortable wear properties and a silky shine.
In addition to the pure version, viscose is also available in blends with other chemical or natural fibers such as cotton or linen.
3. Cotton
Durable, skin-friendly, and tear-resistant material that is easy to clean and also heat resistant.
The cotton houseplant is one of the most important textile raw materials globally and is grown mainly in tropical and subtropical areas.
Depending on the outfit, cotton looks fluffy and warm or soberly cold.
They are available both as a single material and in many blends with other natural and synthetic fibers.
4. Wool
According to the Textile Labeling Law, wool is understood to be the fibers of the sheepskin.
In practice, the term wool also includes fibers from other animals such as camels or goats. What is unique about yarn is its ability to regulate temperature.
It can absorb 30 percent-plus of its dry weight in water without feeling wet, and at the same time, it has a
thermal insulation effect due to its 80 percent air content.
Woolen fabrics tend to repel dirt and do not wrinkle.
5. Silk
Among fabric fans, silk is considered the best material for tying.
The silk is obtained from the threads of the cocoon of the mulberry moth. In summer, silk is pleasantly cool to wear, while in winter, it's the other way around.
Silk hair Scarf for women
The latest hair accessories trend this year is the hair scarf. Whether bandanas or silk scarves – with a colorful accessory, you can create a unique look for every occasion super quickly.
A popular material for hairbands is silk because the noble and soft silk lies very comfortably on the hair and
prevents unpleasant knots' formation.
With a silk scarf in your hair, you can easily conjure up beautiful, stylish hairstyles.
Braided in the hair or knotted around the braid, small works of art are created in the hair, and your look becomes an eye-catcher.
Especially with slightly wavy hair, the hair scarf looks stunning as an accessory.
If you match the color and pattern of the stiff cloth to the rest of your outfit, you can conjure up many different looks from one small, colorful accessory.
Silk scarf as a hairband
You can also use a hair towel for your loose hair. To do this, fold the scarf into a narrow ribbon and then wrap it around your head.
You can also wear a long scarf. Then it's best to tie the scarf at the back of your neck and let the ends hang out of your hair.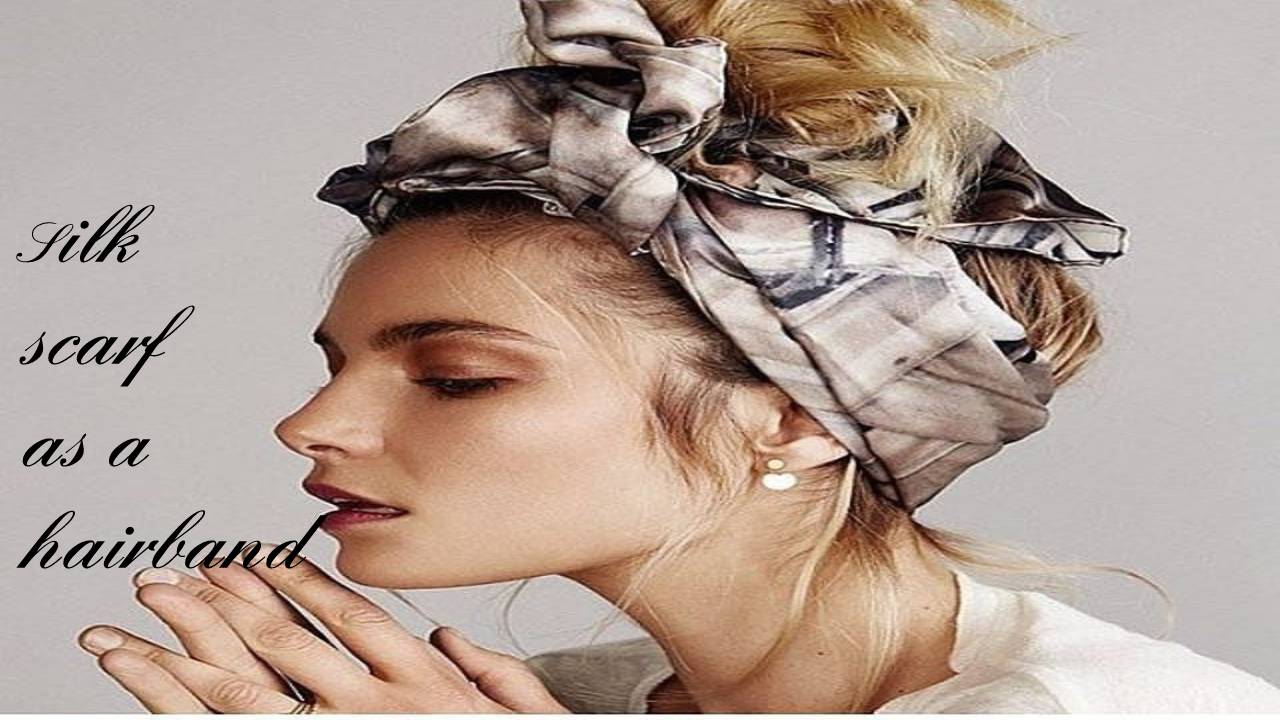 Silk scarves are fabulous for your hair
"Silky smooth" is not just an expression. Using silk in your hair can help keep your hair soft, hydrated, and
tangle-free.
For example, unlike cotton, hair slides on silk make it less harmful day and night.
If you sleep on silk at night, your hairstyle will also stay intact. The best advice is to put a silk scarf on top
of the pillow before going to bed for the same effect if you don't have a silk pillowcase.
If you have curly or thickly textured hair, sleeping on silk will keep those braids and bangs up longer without adding frizz.
Depending on how you wear it, a silk scarf can keep your hairstyle intact even during the day. Dream!
What kind of scarf is right for hair?
If you tie the scarf where it wraps forward, it can be a charming look after putting on your hat or turban.
1. Charming silk is one of the best fabrics
A silk scarf or satin scarf not only keeps the moisture in your hair but also reduces the friction that hats mainly cause when you wear them for hours.
You can find silk used in headbands and pillowcases to help prevent tangles, wrinkles, and folds in the skin.
Many people choose to use silk as a hair wrap because it does not damage or break the hair follicle.
2. Silk scarves are fabulous for your hair
Using silk in your hair can help keep your hair soft, hydrated, and tangle-free. For example, unlike cotton, hair
slides on silk make it less harmful day and night.
If you sleep on silk at night, your hairstyle will also stay intact.
3. Silk or satin is better for hair
Cotton absorbs moisture while silk stores it.
So lying on a silk or satin pillowcase will keep the oils in your locks and won't interest them, leaving your hair nourished rather than dry.
Also Read: Toner for oily skin – Natural, Uses, Best toner for oily skin