Body wash for sensitive skin
Body wash for sensitive skin is the one that effectively cleans the skin without irritating it.
While most of us probably keep an eye on the ingredients we put on our faces, girls with sensitive skin know how important it is to choose products that are soothing for our body.
Basically, when dealing with itchy, red, or inflamed skin, avoiding highly scented chemical lotions and body scrubs is not just a preference but a necessity.
If that sounds like you, we sympathize, which is why we've put together some proven and safe body cleansers for sensitive skin.
After all, a fresh skin scrub is the first step in any complete body care regimen.
Sensitive skin
Skin sensitivity is a prevalent condition among the population and, unfortunately, often underestimated.
In the deficiency of skin diseases or obvious inflammations, sensitive skin is defined as acute and more prone to react (negatively) to irritating physical or chemical agents than "normal" skin.
Additionally, sensitive skin is more susceptible to allergies, redness, irritation, itching, and skin burns.
People who complain of skin hypersensitivity are statistically more prone to the premature formation of wrinkles and other imperfections typical of photo-aging.
However, sensitive skin is a very subjective phenomenon.
And also, it is difficult and laborious to draw up precise and universal parameters to ascertain the condition of skin
hypersensitivity objectively.
However, sensitive skin represents a joint and constantly growing discomfort among the population.
It is understandable how this skin characteristic has attracted cosmetologists' and dermatologists' attention, increasingly stimulated by searching for safer, effective, and delicate products skin.
Not surprisingly, in these past decades, a large part of the cosmetic market is moving towards creating creams, deodorants, lotions, make-up, and anything else dedicated exclusively to sensitive skin.
How do you select shower gels for sensitive skin?
Avoid alcohol-based and antibacterial options. These factors are more likely to irritate the skin, making it itchy, tight, and dry.
Instead, use mild cleansers or shower gels with additional oils or greases.
"Look for soaps and cleansers that say" moisturizing, "hypoallergenic "or" made for sensitive skin, " says Obagi.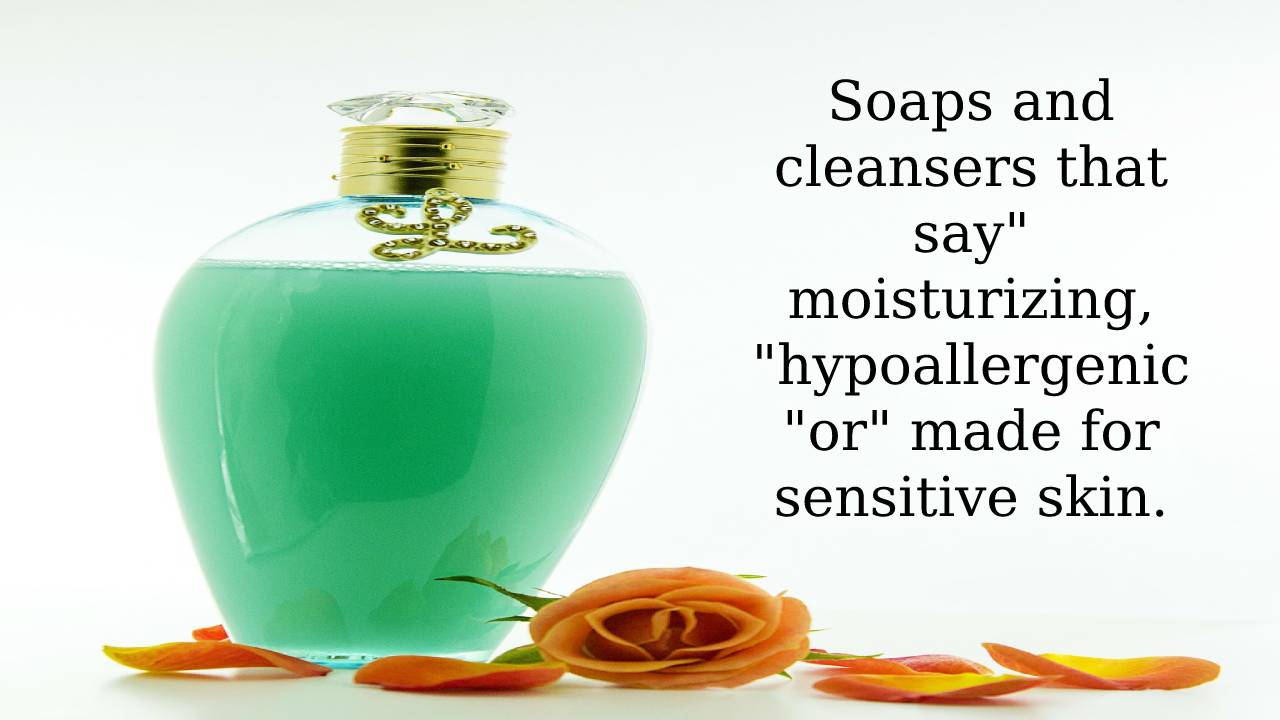 Best Body Washes for Sensitive Skin
Alba Botanica Very Emollient Herbal Healing Bath & Shower Gel
Basically, as for a drugstore pick, you can't go wrong with this natural Alba Botanica shower gel.
The affordable pick has oatmeal, turmeric, and antioxidants to soothe skin and calm inflammation—no parabens, phthalates, harsh sulfates, artificial colors, or synthetic fragrances.
Weleda Soothing Skin Body Wash, Almond, 6.8 Fluid Ounce
Weleda is the same company that makes iconic moisturizers like Rihanna, Adele, and Victoria Beckham, who swear by them.
However, this gentle, skin-friendly cleanser uses organic almond oil and other gentle herbal ingredients to clean without peeling.
L'Occitane Cleansing And Softening Shower Oil With Almond Oil
Basically, if luxury is your main selling point, try this popular cleansing oil from the French company L'Occitane.
It turns from an oily to milky texture when you rub it between your hands to soften, smooth and moisturize the skin. If your primary concern is drought, this may be for you.
Best Body Washes for Sensitive Skin
Vanicream Gentle Body Wash. Our Pick.
Cetaphil Ultra Gentle Body Wash. Best Drugstore Body Wash.
Nivea Men Sensitive 3-in-1 Body Wash. Best Body Wash for Men.
CeraVe Hydrating Body Wash.
Neutrogena Body Clear Body Wash.
Aveeno Skin Relief Body Wash.
Dove Sensitive Skin Body Wash.
Tree to Tub pH Balanced Body Wash.
Dove Body Wash Hypoallergenic and Sulfate Free Sensitive Skin
NIVEA Men Sensitive 3-in-1 Body Wash 16.9 Fluid Ounce (Pack of 3)
Also Read: Euphoria Makeup – What makeup is used? Euphoria Makeup Looks