Temporary Hair Dye
Temporary hair dye is a perfect choice if you want to approach a new, daring hair color carefully.
We will introduce you to the various options.
We recommend a pre-mixed tint for long hair or exceptionally bright shades that can be massaged into the entire hair like a dye.
However, you should bear in mind that naturally lighter strands will absorb the color differently from darker ones.
Once the color begins to pale a bit, it could result in a slightly uneven finish.
However, the tint often only needs to work for 15 to 20 minutes, which is why you can show off freshly tinted and styled hair in less than an hour.
Typically a tint lasts up to 12 washes. For a longer-lasting color result, we recommend a semi-permanent tint that lasts up to 24 washes.
To do this, however, one must mix the color with a developing solution.
In addition to colorful highlights, you can also use a dip-dye style if a completely new shade seems too risky for you.
If you want to give hair your tiny touch of color, you can also try a color rinse solution first.
It is massaged into the hair after shampoo and conditioner and can give blonde hair, for example, a light purple shimmer.
Do you fancy colorful accents?
Then we advise you to use glowing hair chalk or colored mascara. Hair chalk is available in all possible shades and is polished onto the desired strands.
You can also combine different colors to achieve the ideal shade.
Unfortunately, the result only lasts a few washes, which is why chalk and mascara are more suitable for special occasions.
The color provides a temporary tint and can be washed out with water and shampoo – ideal for transforming yourself for a party or festival or playing with unusual trends without risking too much.
Hair coloring at home with Hannah(Henna)
Would you like to dye your hair at home, but you are unsure how to use it? Hannah shows you how you can easily dye your hair at home.
The permanent color nourishes the hair richly and gives it suppleness, shine, and a visibly improved hair structure.
Dye your hair medium blonde and cover the highlights
This article shows you how to color your hair medium blonde and cover highlights.
The permanent color nourishes the hair richly and gives it suppleness, shine, and a visibly improved hair structure.
Temporary, semi-permanent, and permanent dyes
Temporary hair dyes
It can easily be removed again with water. The color particles adhere only loosely to the outside of the cuticle.
Water-soluble, synthetic, organic dyes or pigments provide this type of coloration.
Semi-permanent dyes
They are gradually weakened more or less quickly from wash to wash.
The dye particles adhere more firmly to the hair surface and also penetrate a little into the cuticle.
It is ensured primarily by direct-coloring dyes, such as wool dyeing or certain other synthetic dyes.
It includes the metal salt hair dyes and vegetable hair dyes that are rare today.
Some metal salt hair colors are already banned due to health hazards. Herbal substances lost their importance over time; only Henna is still in use today.
The henna color is not wholly rub-proof, not very lightfast, and the color result depends very much on the natural color of the hair.
Permanent hair coloring
It can withstand almost any shampoo washes; the color particles enter the cuticle and the fiber layer's interior.
"oxidation hair colors" provides permanent dyes with large color variations and good lightfastness
It unfolds their effect like small, mostly colorless colorant precursors ("color bases") penetrate the swollen cuticle, into the inside of the hair and become too firm in the hair stored pigments oxidized.
Can keep coloring achieved almost indefinitely in this way.
But before you look forward to eternal color freshness too soon, you shouldn't forget that the regrowing hairline naturally shows the natural hair color.
What is hair chalk?
Hair Chalk is based on colored lime, just like ordinary chalk. And with it, you can wonderfully decorate the hair.
Whether pink, red, blue, or purple: the too delicate layer of color that wraps around the hair using this technique changes the look in a few minutes – without costly hairdressing treatments or damaging bleaching.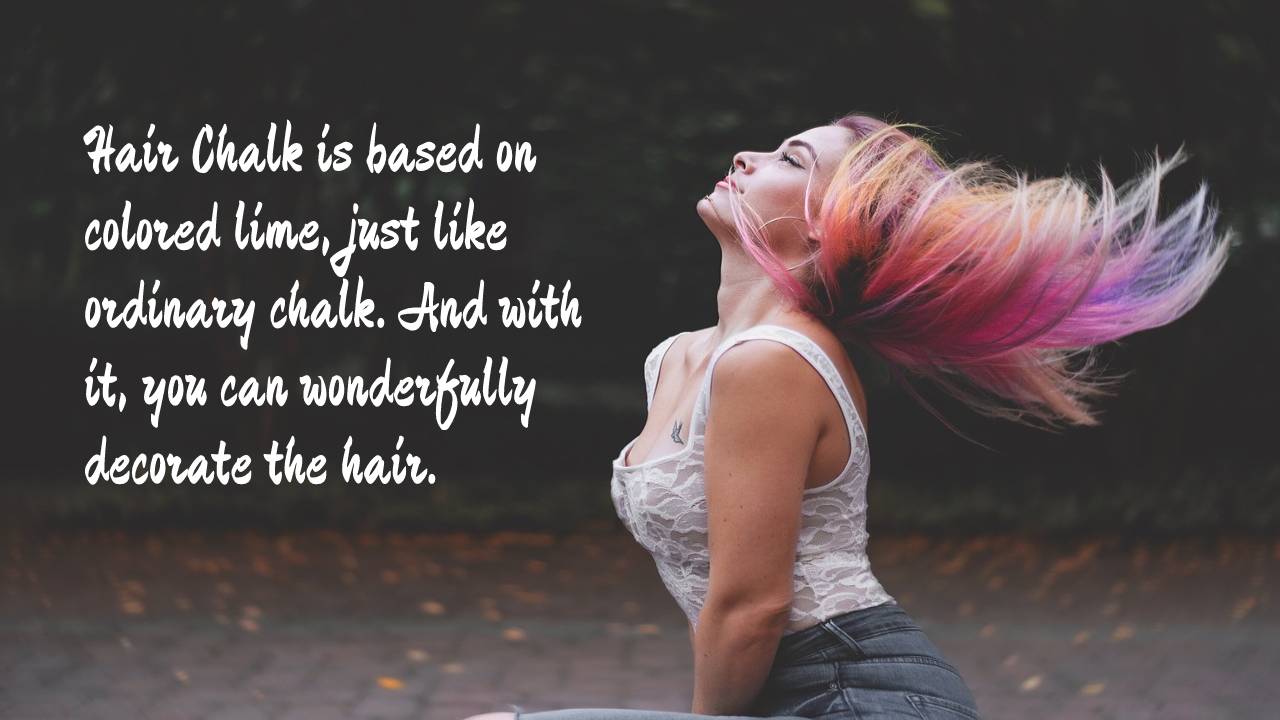 Also Read: Hair – Importance, Treatments, How to Make Hair Grow Faster Naturally?