Shampoo for Colored Hair
Shampoos for colored hair are too often ignored and neglected. These washing products are real little magic potions that allow you to maintain and preserve your color daily.
If you want (finally) to protect your coloring and find the ideal product to pamper your colored hair, follow our little tips.
What shampoos to use for colored hair?
If you want to protect your colored blonde hair, you must adopt a rigorous and adapted routine.
The blonde coloring or the blonde sweep can quickly tarnish, and unsightly yellowish reflections can appear because of frequent washing, repeated straightening, and external aggressions.
Purple Shampoo
Purple Shampoo is, therefore, the ideal ally to sublimate her blonde hair and thus sports mermaid hair like that of Blake Lively!
The purple pigments of this unique shampoo counterbalance the yellow reflections of colored hair and make it possible to "de-yell" the blonde.
However, it cannot use purple shampoo just any way. Do not lather it up like a regular washing product, but rather apply it as a mask on your hair for a few minutes.
Moreover, you cannot use it daily if you have a honey blonde or light blonde. In this case, apply it to your mane every two weeks.
If the other hand, you have a very light blonde or an ice blonde, you can use the purple shampoo once a week.
Be careful; however, this product is incredibly concentrated and can sometimes dry out your ends. Do not hesitate to apply a very hydrating mask on your hair after shampooing.
Blue Shampoo
Like purple shampoo for blondes, blue shampoo for brown hair is a real beauty essential! And yes, blonde hair is not the only one that is fragile! Brown hair also requires quality products.
Over the days, Colored Brown Hair can lose its shine due to pollution, limescale, or the sun.
If you don't take care of its coloring, the subtle hazelnut brown can indeed very quickly turn into a dull and bland color.
And unsightly red reflections can appear to prevent these little hair nightmares, and we use blue shampoo!
This washing product composed of Blue Pigments will neutralize warm reflections and bring a beautiful "glowy" effect to be colored brown hair.
Apply the product evenly to your hair from root to tip and leave it on for a few minutes. Then rinse thoroughly, making sure to remove any residue from the shampoo.
By following this routine, you will find a beautiful intense brown and full of shine in a snap of the fingers.
Natural shampoo for colored hair
Many organic cosmetics have been invading our favorite stores for a few years now.
But given the offer's extent, it is sometimes difficult to find a Quality Natural Shampoo specially adapted to its coloring needs.
For healthy colored hair, bet on Sulfate-Free Shampoos!
Because a sulfate-free washing product suitable for colored hair gently cleanses the hair without weakening it!
And yes, sulfates can be our enemies! They are particularly strippers and aggressive for the hair fiber. It is not ideal for hair already weakened by colorings or repeated highlights.
This type of shampoo also protects your color since it prolongs the pigments present in the colorings.
Finally, a natural shampoo without sulfates prevents discoloration caused by UV rays and brings a beautiful "glowy" effect to the hair!
If you want to protect your color, you can also opt for organic colored hair shampoos.
Composed exclusively (or almost) of natural ingredients, they clean the hair without damaging it.
Enriched with Pomegranate, Cranberry, or Quinoa, Natural Organic Shampoos for colored hair gently revive color.
Their washing bases guaranteed without sulfates and silicones make your hair silky and full of shine.
In short, natural shampoos for colored hair are real allies to take care of your hair and enhance your coloring!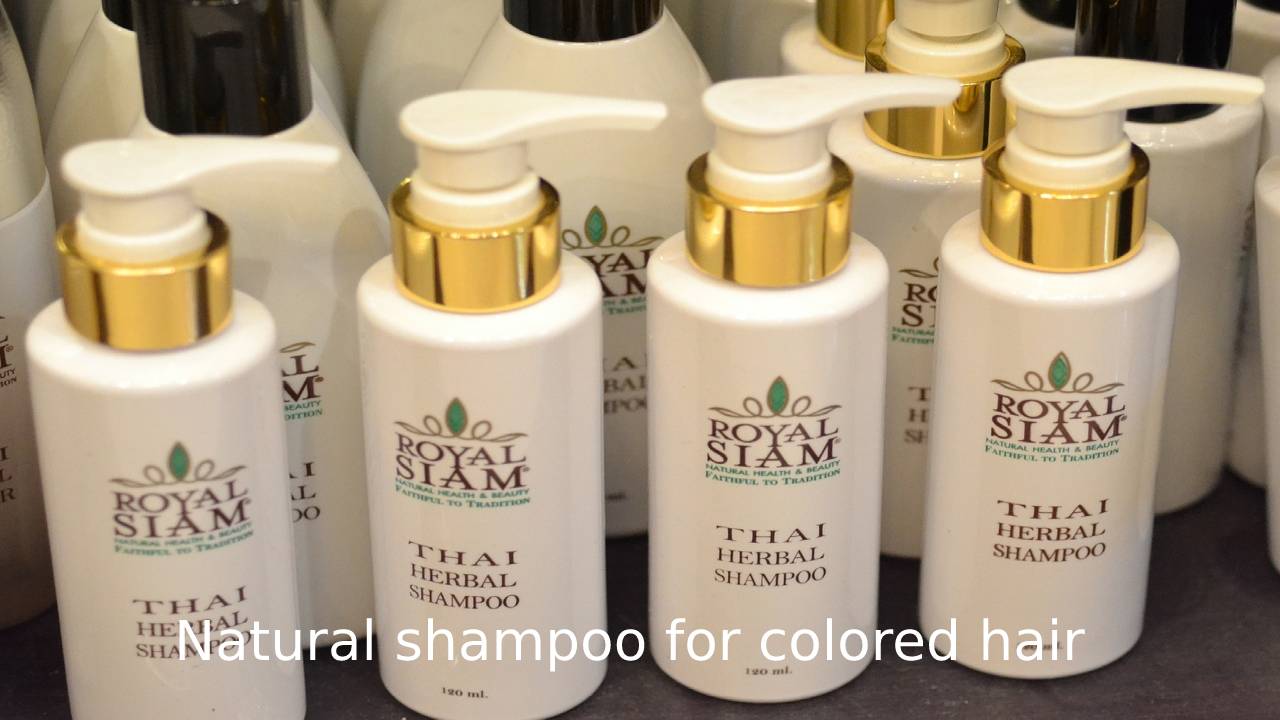 Why use shampoo for colored hair?
Colored hair is fragile and requires (very) special maintenance.
The choice of shampoo is, therefore, anything but a negligible step when you have colored hair.
Sensitive and significantly weakened by coloring or wicks, hair requires a lot of care and quality hair products.
A shampoo specially adapted to colored hair makes it possible to preserve the coloring of the hair.
Enriched with hydrating hyaluronic acid, shampoos for colored hair nourish the hair in depth.
Also, these washing products rich in antioxidants protect the color from fading but also oxidation.
Shampoos for colored hair also protect the hair fiber from external aggressions such as pollution and UV rays while bringing a lot of shine to the hair.
As you will have understood, shampoo for colored hair is a real beauty essential to pamper your color!
Best Shampoos For Colored Hair
If you are coloring your hair, the first thing to do is choose a shampoo that will help prolong the color's wear on your hair and maintain the shine of colored hair.
Permanent hair colors only last up to 20 washes, even with mild shampoos. If you choose a protective shampoo, your paint can last up to 30 washes.
Here is a list of shampoos specifically formulated for colored hair
Kerastase Blond Absolu Bain Lumiere Shampoo
Olaplex No. 4 Bond Maintenance Shampoo
Love Beauty And Planet Blooming Color Shampoo and Conditioner
Kerastase Blond Absolu Bain Lumiere Shampoo
Rahua Color Full Shampoo
Bumble & Bumble Sulfate-Free Color Protector Shampoo
Protective shampoo for colored hair Kérastase
Naturé Moi shine color shampoo
Redken gentle shampoo for colored hair
Virtue gentle shampoo for colored hair
L'oreal Professional Serie Expert Vitamino Color Shampoo:
L'Oreal Color Protect Protecting Shampoo:
Rescue Color Rescue Therapy Dove Hair Shampoo:
Matrix Biolage Delicate Care Shampoo:
Richfeel Aloe Vera Shampoo for damaged and colored hair:
Also Read: Distilled water – How to keep it pure? Can you drink distilled water?