Rosewater
The Rosewater is a product obtained during the extraction of essence from the petals of plants belonging to the genus Rosa, Rosaceae family.
Rosewater is a product widely used in cosmetics. It is a plan to maintain an adequate pH of the skin to control the sebum's excessive production.
Rosewater is a traditional remedy, which Cleopatra would have found. Its properties are not limited to aesthetic benefits only!
This floral water also has therapeutic benefits in the context of minor disorders such as irritation, bloating, or sore throat.
Although rose water has grown in popularity over the years due to its aesthetic benefits, it is also of interest to treat certain illnesses.
Originally from Iran, Rosewater contains 10 to 50% of rose oil, and various components such as terpenes, glycosides, flavonoids, and anthocyanins are all beneficial to human health.
As with all hydrosols, be sure to buy 100% pure rose water, that is to say, without the addition of alcohol and preservatives.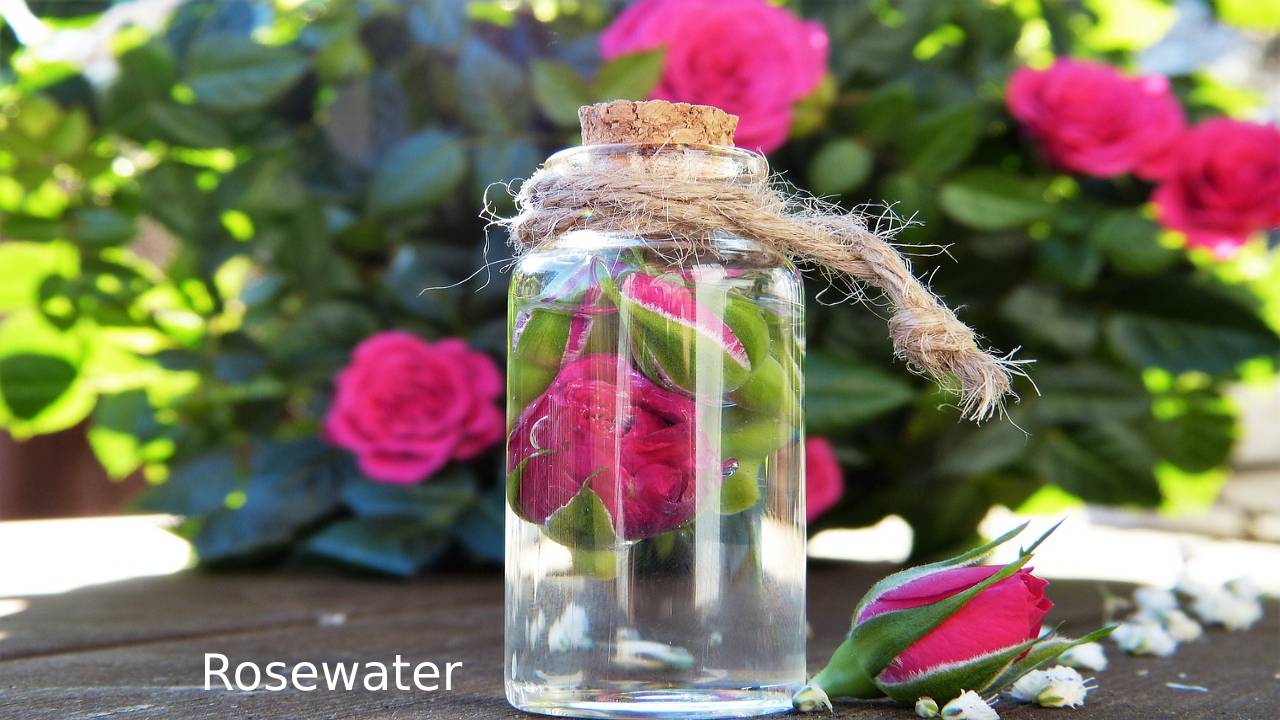 Properties
Anti-inflammatory, decongestant, and refreshing, it soothes redness and calms allergic reactions.
Astringent, it tones the skin.
Anti-wrinkle helps regenerate the skin and prevent the effects of aging.
It blurs stains as well as stretch marks.
Its vitamin C content is ideal for synthesizing collagen and protecting against free radicals that cause skin aging.
Its antibacterial and healing properties make rose water an essential ally against skin ulcers and acne.
Health benefits of Rosewater
It has anti-inflammatory action and is useful in combating redness, irritation, acne, dermatitis, and eczema to hydrate.
And it revitalizes the skin to heal cuts and other wounds, regenerate tissue, and fight scars.
Thanks to its astringent properties, rose water is said to help cleanse the pores, tone the skin and shrink capillaries, reducing redness.
It would also help fight wrinkles and other signs of aging.
Rosewater is used to prepare purifying masks and natural peels for seborrheic dermatitis, dark circles, acne, edema, rosacea, and wrinkles.
He can also prepare a decoction to drink with rose petals to take advantage of the tonic, astringent, and disinfectant properties.
The same drink can also reduce the ailments associated with menstruation and bleeding gums and fight against diarrhea, excessive sweating, pharyngitis, and kidney stones.
Finally, rose water is known for its relaxing properties, which would give it a slight antidepressant effect.
And it could be useful in cases of anxiety and to promote relaxation and emotional well-being. Finally, it seems to help you sleep better.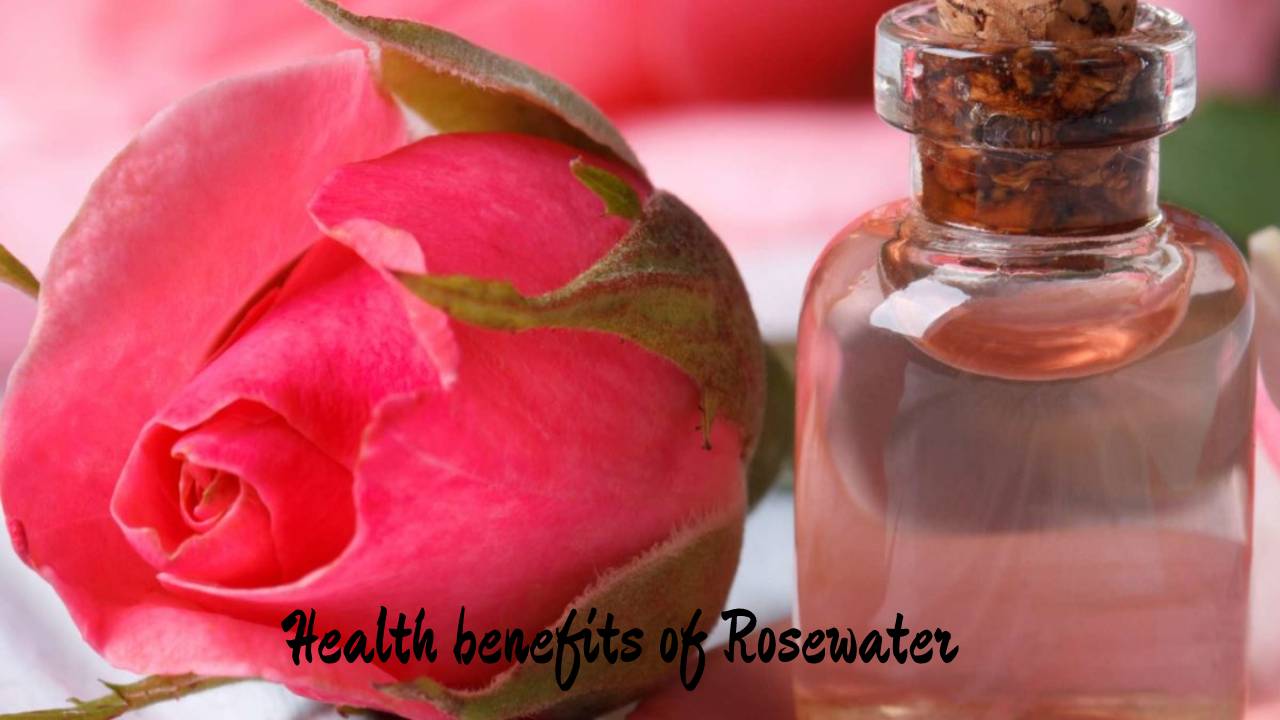 1. Rosewater for the skin
You might add a few drops of rose water to the bathwater, which allows you to notice the sensation of softness and to soothe it provides.
But that's not all! Rich in essential fatty acids, rose water maintains fibroblasts and the hydrolipid barrier, which helps you keep skin firm.
Besides, it protects against free radicals thanks to the presence of vitamin E in its composition.
Rosewater has other advantages: anti-inflammatory, it limits the appearance of redness, especially on dry skin.
It is also effortless to use since it suffices to spray rose water every morning on your face, bust, and arms to have more toned skin.
2. Rosewater for hair
By spraying a little rose water on your scalp and then massaging, you will calm irritation and inflammation.
Cleansing the scalp and promoting blood circulation will also help hair growth.
3. Relieve stomach pain
If you suffer from stomachache, rose water can give relieve Gastrointestinal upset when taken by mouth.
According to experts at She knows, it increases bile flow, which relieves bloating and discomfort,
and regulates digestion.
4. Alleviate anxiety
Rosewater properties inhibit the amyloid, an abnormal protein fragment that slows down brain cells' functioning.
This product would therefore have antidepressant and soothing properties by inhalation.
5. Calm sore throats
Due to its anti-inflammatory effects and vitamins B, C, E, and A, rose water can treat cold symptoms, such as a sore throat.
Its antimicrobial and antioxidant effect would serve to soothe the lining of the throat.
6. Fight infections
The rose petals and being rich in vitamin C, contain polyphenols, compounds derived from plants with potent antioxidant properties.
These help fight inflammation in the body.
Rosewater is a complete cosmetic
Rose floral water is known for its soothing and astringent properties, and it is the ally of devitalized skin
searching for a radiant and luminous complexion.
On sensitive skin, it soothes, hydrates and refreshes. On devitalized and dull skin, it revitalizes, brightens,
firms, and has a tightening effect.
It is astringent and purifying on oily skin—besides its high concentration of essential fatty acids.
Improve hydrolipidic barrier and plays on the excellent quality of fibro-blasts and the production of collagen.
It is particularly suitable for mature skin to fight against the effects of aging. It tightens the pores of the
skin, refines the texture, and gives a fresh complexion.
In a single step, it helps to purify, heal, soften and moisturize your skin.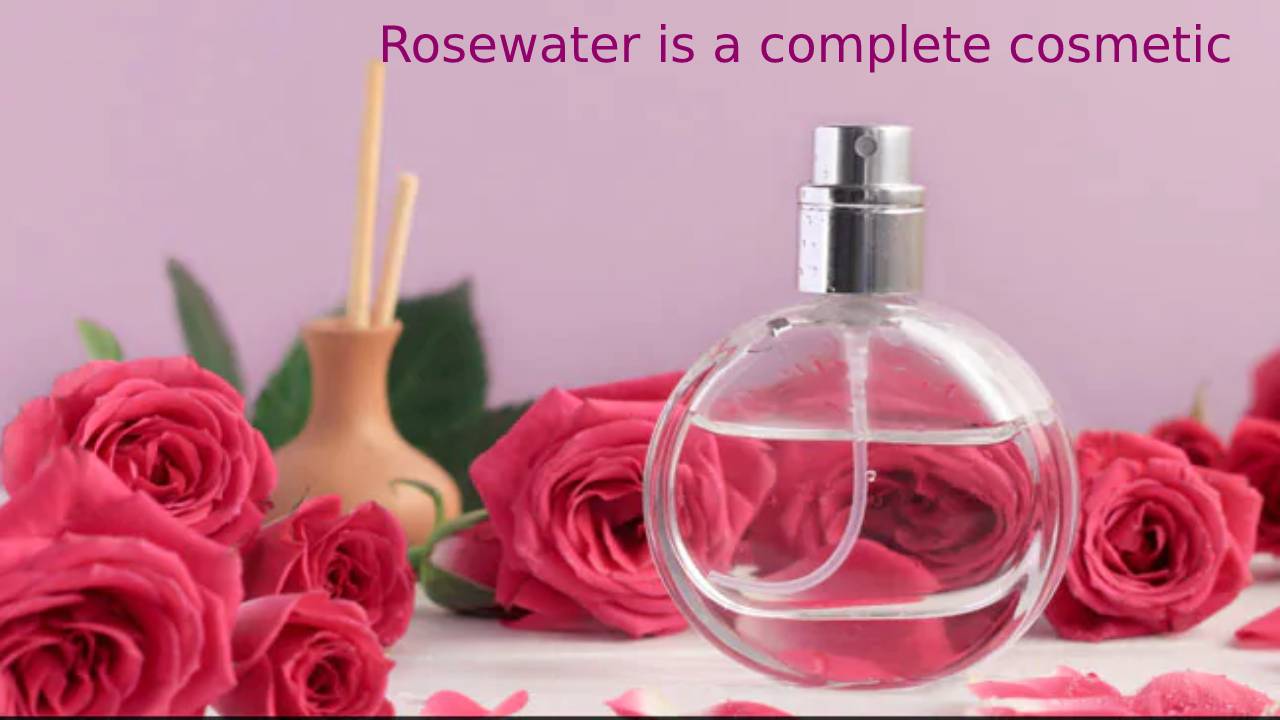 Also Read: Natural Shampoo – How to use natural shampoo? Best organic shampoo
Also Some Helpful Resources on Dyifo