Lighted Mirror
Lighted Mirror is a mirror with light that produces a warm, white, and natural light that will suit you.
They have bulbs around the perimeter because even lighting has always been critical to putting on makeup correctly.
Whether you're getting ready for a close-up or a candlelight dinner with your better half, it would help you.
It is perhaps the essential feature to consider when buying a magnifying mirror.
Trying to do makeup in low lighting can affect your appearance, usually in a negative way.
So to avoid having to guess or hope to get lucky with your makeup, buy yourself a magnifying mirror with lights.
Place it at eye level, so the light is scattered evenly without shadows on your face.
Long-lasting LED lights are the right choice, as the frosted bulbs diffuse the light evenly.
Some more advanced mirrors have an adjustable light intensity and color modes to see how you will look in various lighting situations.
The iconic magnifying mirror of all time must be the one we often see in the dressing rooms that actors use to prepare to act in movies or on stage. You must have seen them.
That's why Conair developed the Hollywood Glam Mirror. If you want to check your makeup in various lighting conditions, this is an excellent option.
Frosted bulbs give you softly diffused natural light that can set low, medium, or high brightness. Also, you can choose to light for the home, office, or daylight.
It can give you the confidence that your makeup will look good wherever you go, with a cord and AC plug adapter.
How to choose a magnifying mirror?
Choosing the right magnifying mirror is not that difficult. There are just a few key features to keep in mind.
And as we mentioned before, it depends on how important it is to look great.
It will determine how much you want to invest. So what are the fundamental requirements for a right magnifying mirror?
Magnifying mirrors have come a long way. Initially, they were reflective glass plates with a simple frame, mounted on a base to rest on a dresser, table, or countertop.
Today, they are more than just magnifying mirrors with lights.
Contemporary magnifying mirrors are designed for precision makeup, with high-quality LED lighting and frosted bulbs that diffuse the light.
It is adequately reflected in different lighting conditions, and some come with adjustable brightness and other color modes.
And they come in different shapes and styles with designs to suit any décor.
A high-quality magnifying mirror is a worthwhile investment if looking great is essential to you.
The best lighting for makeup mirror
The most natural light source for makeup is the sun, which is not always present in our bedrooms or bathrooms in a uniform way.
However, if you can place a mirror near a window or outside on a sunny day, and let that reflected daylight illuminate your face evenly without shadows, go for it!
But keep in mind that direct sunlight tends to be healthy, and coming from an angle will create many shades.
The key to success is that diffused natural light illuminates your face evenly at eye level.
It would help if you achieved a sufficient luminosity, but without an intensity that dazzles and without shadows.
But how can you achieve this without relocating and rewiring the lights in your home?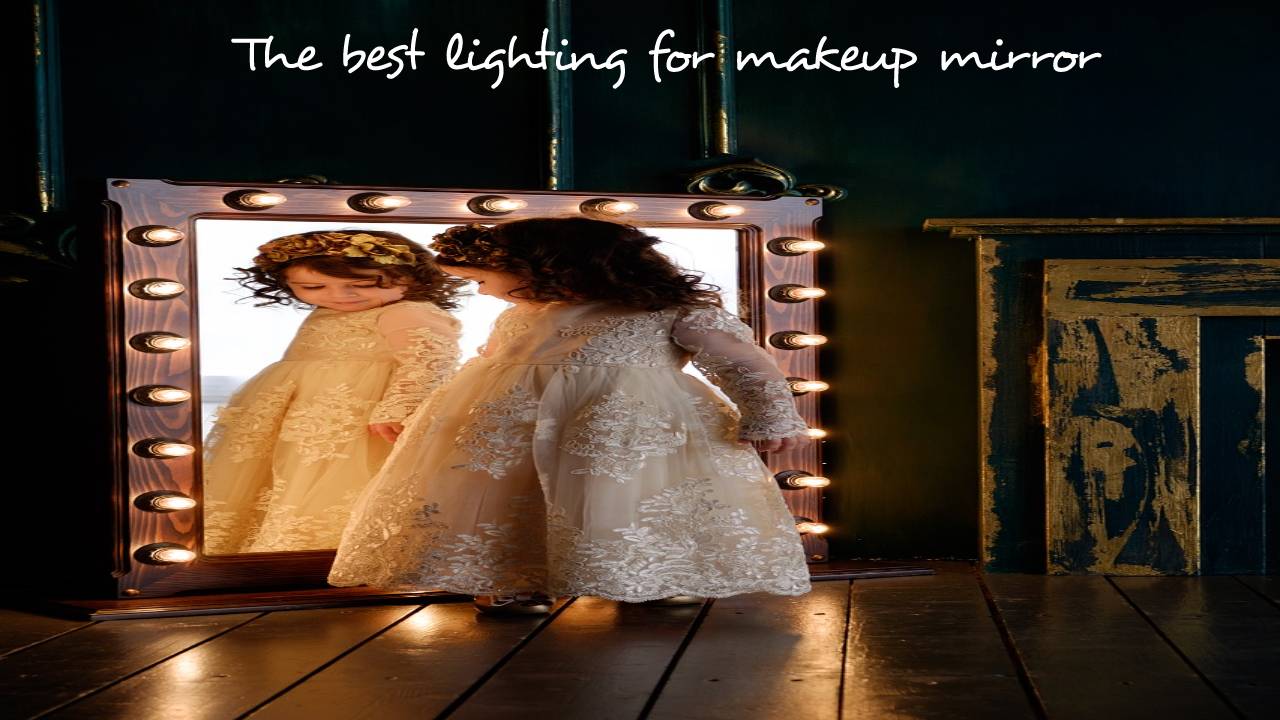 Change makeup mirror with lights
It has 12 bulbs with adjustable lighting and three light modes to choose from white, neutral, and warm light.
It will allow you to see your makeup from all angles.
The mirror has 30cm x 40cm and a non-slip aluminum base to support it on a stable surface.
Ideal for putting on your makeup table: it will look like a beauty salon.
Mirror with circular light Aesfee
The Aesfee mirror has a reasonably simple design, but it is so versatile and powerful because of this.
It is round and has two (2) faces, one regular and a 5X magnification.
Turn the mirror on its base to offer you a sound, sharp, and precise magnification.
The best part is that it is completely rechargeable, so you can use it anywhere without relying on a cable and
without having to invest in batteries.
Makeup mirror with light FASCINATE
The FASCINATE mirror follows the trending triptych design, given its versatility and the ability to work on your makeup by viewing it from all angles.
This model stands out as the touch switch to turn on the 21 LED lights in the central mirror, which are also dimmable.
Managing the lights' intensity will allow you to appreciate your makeup as if it were in different environmental conditions.
So you will have a much more polished, professional makeup finish.
Auxier triptych vanity mirror with light
If you require more detailed work, the most common 3X and 2x magnifying mirrors are probably not enough.
In that case, Auxmir's mirror is perfect for you. The mirror includes another detachable one with 10x
magnification.
It is the ideal tool to outline your eyebrows and take care of your face in more detail.
It has a triptych design, with a 180 ° rotating base and 20 LED lights that illuminate very naturally and allow you to apply your makeup with comfort and precision.
WEILY folding mirror with light
The 3-section design of this light mirror is distinguished from other similar models by the arrangement of its LED lights.
Most lighted mirrors have their lights separated in small spots around the mirror, while the WEILY mirror has a light strip around the edges.
As a result, the lighting is much more intense, concentrated and eliminates shadows.
Also Read: Lip plumper – Different types, How long do they last? Best Lip Plumpers