By definition, 'Black Tie' is one of the most formal and sophisticated dress codes. Upstaged only by 'white tie', it traditionally calls for a classy and refined evening look. Whilst this dress code is fairly simple for men, who can step out in a classic black tuxedo and look just the part, the endless number of glamorous style and colour options can make it a little more complex for the rest of us.
Spotting 'black tie' on a wedding invitation can feel slightly daunting, however it's the perfect opportunity to pull out all the stops. To help you along the way, we've gathered our favourite pieces and put together a few top tips on how to nail this high profile wedding attire look and celebrate in style.
Length
As a general rule, a floor length evening gown is go-to when dressing for a black tie event – and as the opportunity to sport a red carpet-worthy dress doesn't come around every day, why not do just that! If you're looking to really immerse yourself in the glitz and glamour of black tie, make a statement with a mermaid style train that slinks to the floor and trails behind you. Conversely, as trends have evolved over the years, shorter lengths have become more popular at black tie events and can be equally as chic as a longer hem. If opting for a midi or ankle length dress, choose a darker hue and heavy fabric such as lace or velvet.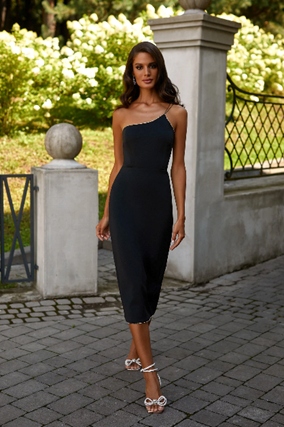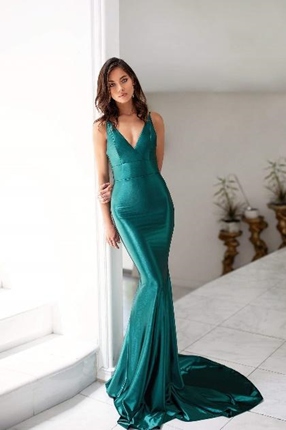 The quality scuba fabric and stunning diamante trim of the Gisele Dress makes it a stunning alternative to a floor length gown. Make your red carpet dreams come true with a gorgeous mermaid train, as featured on the Martina Gown. Images: Alamour The Label
Colour
Much like any other wedding guest dress code, the well-known rule to avoid white (or any similar hue) applies here too – and with an endless colour palette of stunning shades to choose from, this won't be an issue. Deep, rich hues such as forest green, navy blue and burgundy ooze elegance and flatter a range of skin tones. For a bolder look, lean into the theme of the day and opt for a romantic shade of red, keeping accessories neutral and minimalistic. While some argue that a black dress shouldn't be worn to celebrate a wedding, the black tie dress code is an exception to this unwritten rule and remains a classic, no matter the latest trend.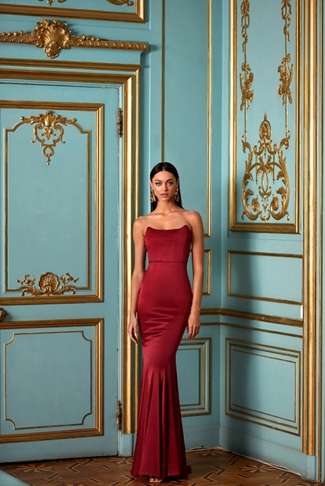 Much like the name suggests, a classic black gown such as the Cristina Gown is a timeless and sophisticated option. Romantic hues of bright red and deep burgundy will take you seamlessly from the early evening to after-hours celebrations. Pictured right is the Dione Gown. Images: Alamour The Label
Styling
Whether you've decided on a classic black number that oozes class or a showstopping burgundy gown that accentuates your figure, let the dress be the centre of attention and keep accessories understated and minimalistic. A pair of drop earrings, a small clutch and strappy stilettos or sling back pumps are the perfect finishing touches to most gowns. If you're looking for a little more sparkle, add a dainty, diamante necklace to a dress with a bustier or sweetheart cut. For one-shoulder styles or plunging necklines, opt for a classic tennis style bracelet and finish the look with a bouncy blow wave or loose updo.
A black tie wedding is the ideal excuse to debut a show stopping look and dance the night away, whilst celebrating your loved ones. If you're feeling inspired for your next black tie union, Alamour The Label has a stunning range of gowns to help you nail the look.