What is an Eyelash extension?
Eyelash extension gives every woman a breathtaking look and an intense expression.
For a long time, full eyebrows were considered the ideal of beauty – today, it is long eyelashes.
Regardless of your eyes' shape, whether sexy cat eyes or cute round doll eyes, the permanent eyelashes can always be individually adapted to your lash line and conjure up a natural look.
But very few women have perfectly curved, deep black, and long eyelashes, which is why many decide to help with a little beauty trick.
With permanent eyelash extensions, artificial eyelashes are always useful to your eyelashes with a special adhesive – similar to a hair extension.
That is, a fake eyelash is glued onto a natural eyelash.
Eyelash extension done, it is best to go to an appropriate cosmetic or eyelash studio.
A professional eyelash stylist will conjure up the mascara look for you without using mascara or eyelash curlers.
Eyelash extensions pros and cons
You have never done an eyelash extension before and ask yourself:
Are permanent eyelashes right for me?
Even if eyelash extensions have many advantages, they are not always the optimal solution for everyone.
Advantages of an Eyelash extension
Long eyelashes beauty – the number 1 argument for eyelash extensions is the irresistible look and full lashes.
Time-saving – You no longer spend forever in front of the mirror in the morning to apply the mascara and in the evening to remove makeup from your eyes.
Waterproof – Once the eyelash adhesive has cured, the eyelashes are waterproof.
It is a vast beauty bonus, especially in summer or on a beach holiday. But your eye makeup also fits perfectly after the sauna, sport, or solarium.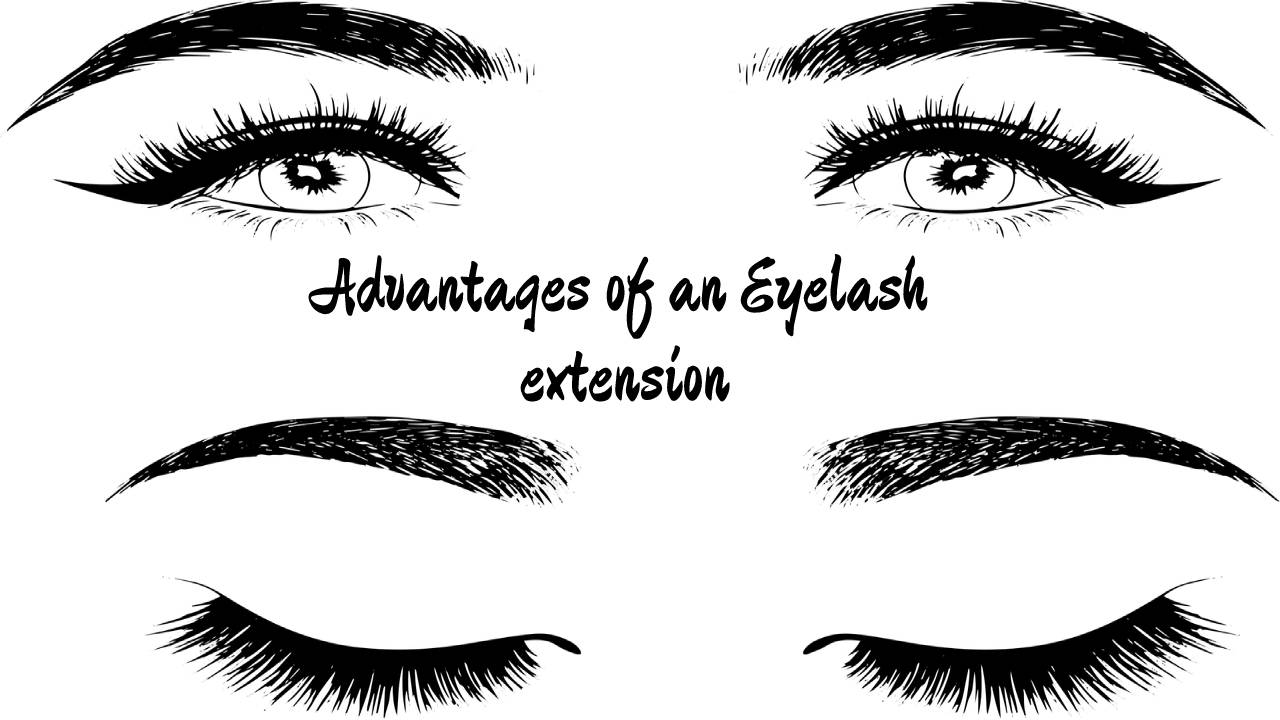 Disadvantages of Eyelash extensions
High costs  – Anyone who wants to be beautiful has to suffer – at least your bank account suffers from your beautiful eyelashes.
Especially if you wear the eyelash extensions for a more extended period and refill them repeatedly.
Intensive care –  Even if you save yourself the morning mascara, even the most beautiful eyelash extensions will not survive long without any time for care.
Just like hair, you have to comb your eyelashes every day.
Avoid using oily care products – Oil and grease soften the eyelash glue and, therefore, not contact your eyelash extensions.
Avoid using oily beauty products – at least when it comes to eye care and eye makeup.
Eyelash extensions most important Tips
No water & no heat immediately after eyelash extensions
The first 2 days after leaving the salon with a new eyelash extension are essential.
The eyelash glue is not yet completely dry, which is why you have to be particularly careful.
It is recommended not to let water get on the eyelashes or heat, for example, in the form of showers (thoroughly not washing your face here) or going to the sauna.
It would be finest if you also gave up intense exercise for the time being so that the sweat does not attack the eyelash glue.
Only gently detangle the eyelash extensions
The beautician often gives you a small eyelash brush with which you can gently comb your eyelashes.
So they don't get tangled up. In any case, you have to be careful not to proceed too roughly not to tear out any fake lashes (including your real ones).
Use makeup removal products without oil
When caring for an eyelash extension, it is the makeup that matters and the correct products when it comes to makeup removers.
Here it would help if you avoided anything with oil because it can loosen the eyelash glue.
Oil-free products like these makeup removal pads are therefore the motto.
There are also unique makeup removal products for eyelash extensions, the ingredients of which are perfectly matched to lash extensions and their needs.
Use eyelash shampoo
Eyelash shampoo will also help you take care of your eyelash extensions. The paraben- and oil-free cleaning foam is gently applied to the lashes and rinsed off.
Small dirt particles, as well as sebum and makeup deposits, disappear, and your eyelashes remain as soft and "fluffy" as freshly made.
Don't rub, pull, and pluck your eyelashes
Logical, but from my own experience, I know how easy it is to forget.
Try not only to expose your eyelashes to chemicals but also mechanical stress.
The eyelash curler is just as forbidden as rubbing eyes (resisting the reflex is nasty, yes!) Or playing around and plucking the eyelashes.
Maintaining an eyelash extension also means keeping your fingers off it.
Also Read: Best curly hair products – Homemade Treatments, Top products